September 5, 2013
Sarah Frances Hardy, 12th on our WIK Blog Tour, is a relative new-comer to the field of children's literature. She's someone who, like many of us, took a circuitous path before finding a profession she loves.
First she earned a Bachelor of Arts from Davidson College, before
studying at Parsons School of Design in New York/Paris -- doubtless
with hopes of becoming an artist.  So why did she earn a juris doctorate
from the University of Mississippi next?  We'll have to ask her.
Today, she's given up the legal life to become the author/illustrator of 
Puzzled by Pink (Viking Children's Books, 2012) and the soon to be
released Paint Me (Sky Pony Press). Clearly she's someone who has
an "eye" for design and color (Her kids's room was featured in
Southern Living - for goodness sake. My kids' room couldn't even 
make the back page of Garbage Weekly. On second thought...)
Clearly she's a natural when it comes to understanding the subtle 
nuances that make a setting or a picture book page "pop" while 
capturing the imagination of children with her lively characters.
Moodyviews: So let's get started, but before we delve into Sarah's workshop, Plotting Picture Books, let's hear a little bit about her journey and how her kids' room was clean enough to be showcased in a national magazine.
Okay, Kid Lit Bits, take it away. 
KLB: Skip the room, tell me a little bit about your journey to becoming a writer/illustrator and how you juggle being a mother, illustrator and writer.
SFH:  Ever since I can remember, I have wanted to write and illustrate children's books. For years (starting in college!), I sent out manuscripts and art samples. I'd get a couple of rejections and put everything away for a few years. Then I was never really committed, and I never told anyone.
KLB: What changed?
SFH: About nine years ago, I was up with my baby daughter in the middle of the night. I remember looking at her and thinking about writing and illustrating and that I had never really tried very hard. I knew then that I didn't want to be rocking in my chair at the Peaceful Gardens Rest Home wondering if I could have done it.
KLB: And?
SFH: I "came out".  I told my friends and family about my dream of writing 
and illustrating children's books. It was a small act, but important.  Suddenly I felt accountable to other people: my husband, my friends -- some even winked and asked when they'd see my name "on the N.Y. Times bestseller list." This accountability made me try harder. 
KLB: How did you learn about SCBWI?
SFH: Katie Anderson (YA author of Kiss and Makeup) told me about it. 
We started going to conferences together. I wrote more books. I worked
on my illustration style. I sent out manuscripts.
And I received enough rejection letters to wallpaper my bedroom.
KLB: Haven't we all!
SFH: But I kept writing and having my work critiqued.  In the fall of 2009, I signed with an agent who sold my first book to Viking.
KLB: And  thus began the familiar family/career juggling routine?
SFH: Right, except I've learned to lower my expectations. My house never looks like it did in those magazine spreads. I've also learned to treat my career as a career which means saying "no" to some volunteer opportunities. Little bursts of time get used more effectively, too, because long blocks of time to work during the day are rare.
By the way, the room that was featured in Southern Living?  Behind the camera was a total mess that we'd raked aside to make it look more put together. 
KLB: Sounds a little like re-writing a first, messy draft to get to the finished product.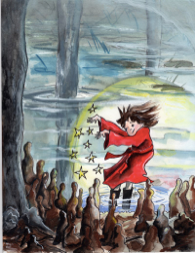 SFH: Kind of ... except that the minute the photographer left, we shoved everything back into the room! 
KLB: You did take an interesting detour to law school before settling on writing and illustrating?  What compelled you to consider law as a profession?
SFH: When I finished college, I had big dreams of heading to New York. There I'd find a job in a gallery and live the bohemian artist life. This "plan" scared my dad to death -- little money, no medical insurance, no real understanding of the real world. Probably my dad could see into the future ... and know I'd be asking for money in perpetuity. 
So he offered me a deal ... If I would go to law school, he'd pay for it. After that I could do what I wanted. He gave me a fall-back career and I've always been grateful.
Now when I do school visits I tell students how important it is to be able to support yourself. It's hard to be creative if you're worried about paying your light bill.
I also tell them it's important to never lose sight of their creative dreams. Even in law school I never stopped painting and later landed a spot in a small N. Y. gallery.
KLB: Did your law school training help you understand Cause and Effect better?  Those seem to be two key elements in any successful story.
SFH: Wow! I've never even thought of that!! I'm sure it has had some sort of subliminal influence.
Moodyviews: Do you mean, "because that happened, then this happened?
KLB: Shhh! Just let Sarah answer.
SFH: Well, yes. Aren't you brilliant? In my breakout session, I have a handout that breaks down a picture book plot just like that!
KLB: You offer an interesting workshop called "Puzzled by Picture Books," as a part of your school visits where you use visuals to illustrate the process of creating a book.  Will you be using visuals in your WIK workshop?
SFH: I will. The only thing that I can confidently say I am an expert about is my own process. I'm going to use visuals--sketches, thumbnails, storyboards--to show my process in creating a picture book from start to finish. But this session isn't just for illustrators. I use visuals to show how I break down the text as well.
KLB: Will your attendees need to create any artwork or put together a storyboard?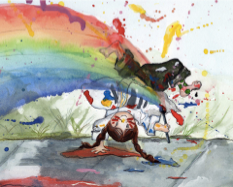 SFH: No need to do any of this on the front end, but I'm hoping to inspire my attendees to do their own storyboards after the conference.
KLB: How about the character worksheet? Should those taking your workshop bring a character sketch with them? 
SFH: The character worksheet that I use is a list of detailed questions. We'll be talking about how to create your own character from scratch as well as how to fine-tune a character you may already have in mind. So there's no need to bring a character sketch with you, but if you have something you're already working on, by all means, bring it!
SKB: Rising action, falling action, tension, a satisfying ending --  these are all as necessary in a picture books as they are in any good book. Tell us a little bit about how you will help your WIK attendees learn how to weave all of these elements together in a picture book.
SFH: We'll talk about plotting a picture book on the basic plot arc diagram that we all remember from English class, and I'll demonstrate how to do this using a popular picture book as an example. It's easier to understand how to do it in your own work if you can see how someone else does it. And the challenge with picture books is that you have to do all of these things in less than 700 words!
KLB: Are there any picture books your recommend your WIK participants read in preparing for your workshop?
SFH:  My focus is on character driven picture books, so reading a few books like the Ladybug Girl books, the Lilly books (by Kevin Henkes), and the Fancy Nancy books would help.
KLB: Any concluding remarks you'd like to leave our readers before we meet again at WIK 2013?
SFH:  Come to my workshop with lots of energy and lots of questions. Picture books are wonderful and complicated while appearing effortless and simple. Mem Fox said it best when she said that "writing a picture book is like trying to write War and Peace in haiku".
I'm looking forward to seeing all of you in a few weeks!
Moodyviews: Thanks, Sarah, for sharing your Picture Book tips with Kid Lit Bits. We'll look forward to learning more at your workshop. Readers, to learn more about Sarah before the conference, visit her website -- http://www.sfhardy.com  To learn more about the 2013 Conference, follow the WIK Blog Tour posted below. They're all still up so you can visit at any time.